Prestige Primrose Hills
Prestige Primrose Hills Overview
Bangalore city is one of the prominent destinations for the home buyers today, owing to its high scale infrastructural developments and people settling here from across the country. Considering this, Prestige Group, the real estate giant, which has been creating unmatched living spaces across South India with millions of happy clients, launched "Prestige Primrose Hills" – a marvellous residential complex for its prospective end buyers.
A Preferred Location – Prestige Primrose Hills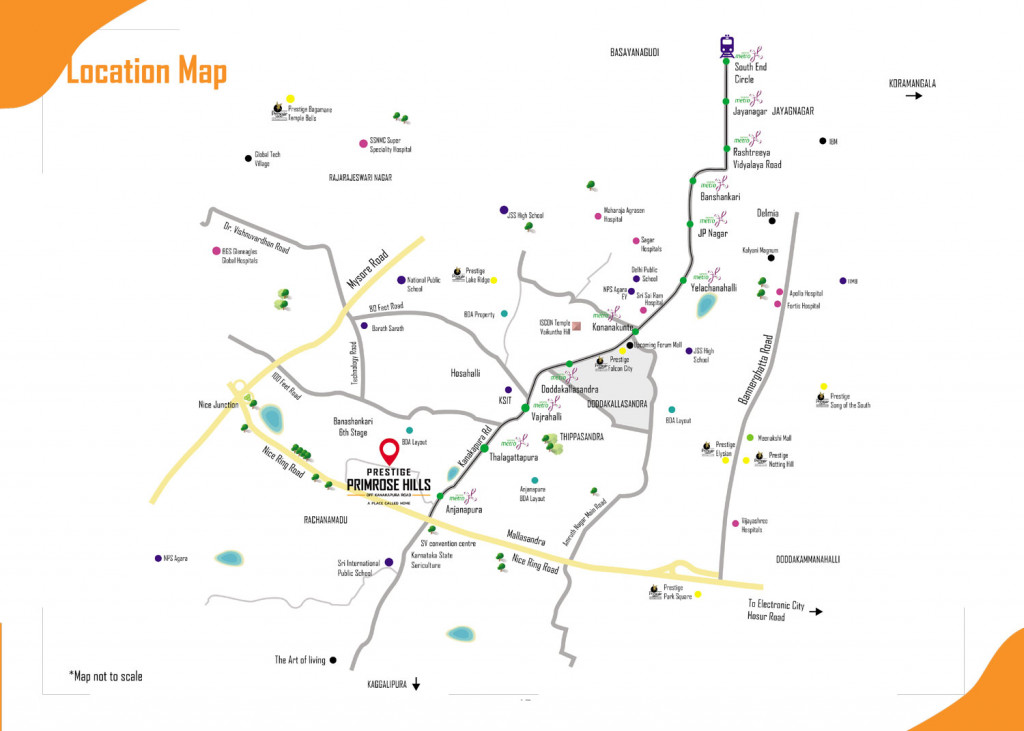 Prestige Primrose Hills is located in the prime location of Banashankari, one of the well planned and upcoming, self sustained and most sought after locations in South Bengaluru. Over the past few years, Banashankari has become a popular residential real estate destination because of the spectacular social infrastructure, with both developers and buyers showing interest, witnessing remarkable growth of residential projects. Moreover, it is also connected to four major roads that run through Bangalore, making it easy for any commuter to move in and out of the location. The development of Bangalore Metro has also contributed to its popularity as a prominent residential hub.
The property is in close proximity to some of the city's most important and necessary facilities like leading educational institutions, major industries and companies, up market shopping and leisure hubs, well known healthcare facilities, metro station, electronic city, etc., which are some of the major attractions of Banashankari. All these are conveniently accessible, while taking care of your lifestyle.
A Phenomenal Prestige Primrose Hills – Specifications
Situated in a serene environment with breath-taking views, Prestige Primrose Hills promises an experience of a lifetime. Spread over an area of 15 acres, the beautiful residential complex offers one and two bedroom home sets in 15 towers to choose from. Each of the 1680 apartments have been exceptionally designed which spells your style and taste. The towers have been carefully positioned, which ensures natural light and ventilation, while enjoying some brilliant views of the landscape and the sylvan central court. Each apartment has all the modern amenities and cutting edge technology, defining the drawing and dining room, bedroom and bathrooms, kitchen, including the exteriors of each apartment. The minute detailing and designs are just perfect, ensuring a comfortable and hassle free living. All in all, a perfect and refreshing treat for your soul!
World Class Amenities at Prestige Primrose Hills
Prestige Primrose Hills by Prestige group offers an array of outstanding amenities to make your leisure time fun filled, exciting and memorable for you and your family.  A fabulous clubhouse equipped with a full spectrum of fitness and recreational amenities, a swimming pool, a yoga and aerobics area, a gymnasium and health club for the fitness freaks and a badminton court, basket ball court, football court, tennis court, cricket pitch, snooker/billiards table, and many more for the sports lovers, are some of the incredible facilities provided for the residents within the complex. A party hall and a multi purpose hall to host parties, celebrations, etc., a convention centre for organising meetings, events, seminars, etc., a crèche to take care of your little ones and a space for a provisional store are some of the impressive amenities provided for the ease of living.
Further, Prestige Primrose Hills has beautifully designed exclusive landscaped open spaces, which comes with a host of comforts such as a children's play area, an open air theatre, a party pavilion with stepped seating to spend some fun time with loved ones and a jogging track to promote health in the midst of greenery. Besides, the charming grounds make for the perfect locale to commune with nature and spend time with family, friends and neighbours.
Prestige Primrose Hills by Prestige Group will enthral you with its attractive designing and amenities, while matching your style statement. A dream home here is worth considering for you and your family!