Prestige Jindal City
Prestige Jindal City Overview
Your home depicts your style, class and personality! Buying a dream home is what everyone aspires for, and Prestige Jindal City is the perfect manifestation of your dreams. Exclusively designed in the cosmopolitan city of Bangalore by Prestige Group, one of the reputed names in the real estate sector, which is known for its exceptional projects in residential, commercial, retail, leisure and hospitality segments, Prestige Jindal City is eccentric, which will appeal to the home buyers.
The Favoured Location – Prestige Jindal City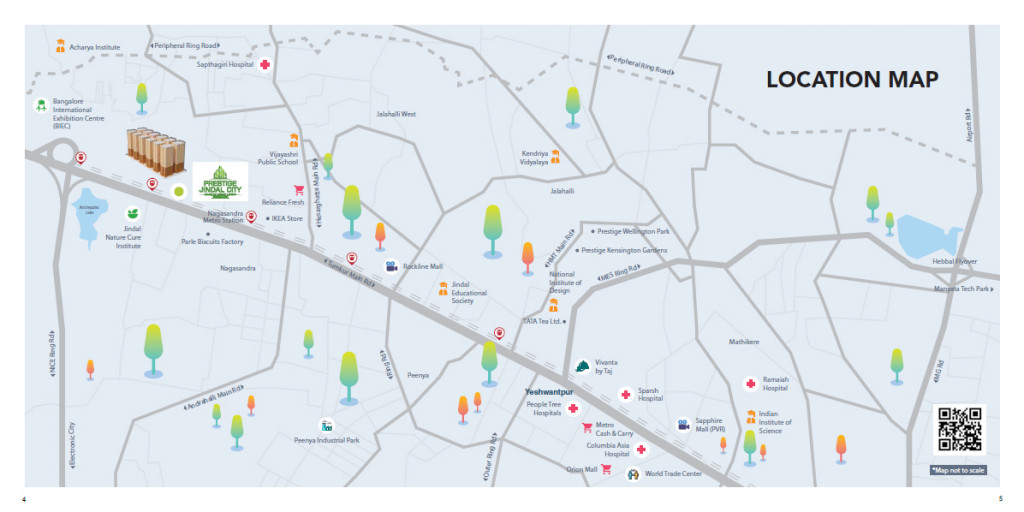 Prestige Jindal City is a well planned and beautifully designed housing complex which will suite every home buyer's taste. Located in Tumkur Main Road, this is one of the most connected projects in the city. These high-rise apartments are sure to make your life pleasant and at ease with schools, hospitals, shopping malls, restaurants, metro, airport, etc. in close vicinity, or are easily accessible. While the metro station attached to the project connects to North, South, East and West Bengaluru, major arterial roads are also close, which help reaching the important business hubs like Central Business District, Peenya Industrial Zone, Manyata Tech Park, BEL, Electronic City, HMT, etc. quite comfortably. It is also close to Yeshwantpur, Rajajinagar, Malleshwaram, Hebbal, Dollars Colony and other major localities in the city. The airport is less than an hour away, and the proposed Peripheral and Outer Ring Roads will offer quick access to the highways. 
The Splendid Prestige Jindal City – Outline
Prestige Jindal City is built on a sprawling 32 acres which has 3571 smart sized attractive housing units, with choice of alluring 1, 2, 3, 4 bedroom apartments.  From living room to bedrooms, kitchen to bathroom, the apartments are a perfect fusion of style and elegance because of the contemporary designing. Enjoy the comfort of the wonderful facilities here and feel the beauty of the breath-taking views, while chilling out with your family and friends. 
Outstanding Amenities
Prestige Jindal City has a host of world-class amenities which are sure to pamper your soul! There is something for everyone which can uplift the mood and revive one instantly! A club house is one of the major attractions of the project, where family and friends can spend some good time together. For the fitness freaks, the gymnasium is the perfect place to stay in shape, while the sports lovers can engage themselves in a variety of sports in the badminton court, basketball court, cricket pitch, tennis court, squash court, mini soccer, table tennis and also some interesting indoor games to refresh themselves. The skating enthusiasts can have a great time at the wonderfully designed skating rink.
At Prestige Jindal City, the kids too will have a gala time each day! The children's play area is worth trying where they can enjoy to the fullest, while the kids pool will keep them physically fit. They can also take up varied sports available in the complex, which will keep them engaged and cheerful. The elderly and the residents too can enjoy the breath of fresh air in the midst of greenery in the garden while taking a walk and spend some quality time.
The list does not end here! Prestige Jindal City has numerous other amenities which will give you an enriching experience of a lifetime! A stunning amphitheatre, grand party hall and multipurpose hall, outdoor barbeque to chill out with loved ones, pet park, reflexology park, salon to take care of your beauty requirements, a spa, Jacuzzi and health club to reinvigorate you, a pharmacy to take care of your emergency medication needs, etc. and many more are on offer.
So your wait for a dream abode ends here at Prestige Jindal City! A well connected project with a plethora of amazing amenities, it is sure to fulfil your wish of a lifetime and add prestige to your life!