Bangalore, being one of the most sought after cosmopolis in India, is also witnessing some outstanding real estate development which are extremely modern and as per the tastes of the customers. Every detailing is very meticulously designed and crafted with a bundle of excellent features and deliverables which captivate the target audience rightfully. With the city developing rapidly and being in an expansion spree, spreading its borders to the outskirts and suburbs, Bangalore is all set to embrace the population from all across the country and globe. The top developers have been regularly conceptualising and delivering several mix of superb commercial and residential projects. Total Environment, a renowned real estate giant, operating since quite sometime now has developed and delivered numerous commercial and residential projects in various domains. From residential properties, to workspaces, restaurants, furniture and decor stores, to organising curated live music shows and events, Total Environment encompasses very unrelated variants. Every completed project of the developer entails thoughtful designs, embracing nature by the means of lush greens, waterbodies, landscaping, bringing a sense of tranquillity, timeless materials used for the architecture, custom furniture and cabinetry keeping into consideration quality and craftsmanship, making each project very alluring for the investors and the end users.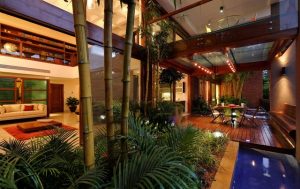 Windmills of your Mind, Rs. 6 Cr, Hope Farm Junction
Windmills of your Mind is an exquisite ready to move in apartment project by Total Environment Group, situated in Hope Farm Junction, East Bangalore. Windmills of your Mind offers exclusive 4 BHK lavish abodes, comprising a total of 332 units. The project is sprawled across a land parcel of 24 acres, a close community that sits on the edge of a small lake featuring a central park, a beautiful earth-sheltered clubhouse, and a lush-green, expansive landscape.
Windmills of your Mind is provides a blueprint for high quality, sustainable community living with living spaces open onto private gardens with large glass windows and French doors ensure that the living spaces are always awash with natural light. The project offers a grand clubhouse with amenities like Table Tennis, Well-equipped Gymnasium, Squash Courts, Dog Park, Children's Play Area, Tennis Courts, Games Room for Board Games, Swimming Pool, Billiards, Badminton Courts, Heated Pool, Theatre, Central Greens, Golf Simulator, Guest Suites, and Cafeteria.