Urban residents look for value-add when it comes to investment in property. When it is about buying a home, the real worth lies in the value it offers to the buyer. Around this ideology, Prestige has developed residential property in Old Madras Road for buyers interested in lifestyle with some value-add.
Old Madras Road has come up as a suitable value providing location in Bangalore. The location is also fast catching up in the list of most sought after destination for real estate development, in Eastern side of Bangalore. First of all, there are innumerable housing in the location, filling it with hustle and bustle. Following which, this area has noticeable infrastructural developments to encourage ease of living.
Schools and educational institutions such as New Pratham Public School, New Baldwin International Residential School, SSB International School are situated around the location. Reaching out for health and medical facilities is also easy. Hospitals such as Sir C.V. Raman General Hospitals, Dr Rao Medical Center, ESI Hospital are available to offer required medical treatment.
In the vicinity, there is no dearth of shopping spaces. Popular malls like the Gopalan Signature Mall, MG Lido Mall, and Gopalan Grand mall are present to offer some recreation to spruce up daily lives. Prestige Old Madras Road residential projects are best way to take advantage of the property in East Bangalore.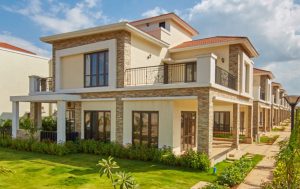 Prestige  Glenwood ,Rs.2.72 Cr, Budigere Road
A luxe residence to fuel the aspirations of the elite is recently launched by the real estate giant, Prestige Group. Set in the midst of the most prominent IT and business hub of Bangalore, the plush residential project, Prestige Glenwood is located in Budigere Road, East Bangalore. The project sprawls across a massive 15 acres where you can immerse yourself in the lap of luxury. Prestige Glenwood has 116 independent villas with their own private lawns and are surrounded by delightfully landscaped open areas, lush gardens and cobbled pathways. The extravagant villas will have the configuration of 3 and 4 rich bedroom sets with superior architecture and aesthetics. This quietly elegant, picture perfect community of twin houses and independent villas will indeed take your living experiences notches up and you will experience epitome of luxury, beyond your imagination. Plus you can really pamper yourself with the specially curated amenities and facilities which will add panache to your life. These villas come at a very attractive price, starting at Rs. 2.72 crores.
Come, experience opulence at its best with Prestige Glenwood which not fulfils your picture of the perfect home but also make you a suave owner of a coveted villa in this equally enviable enclave!